There is more to recruiting, hiring, and managing staff than the basic nuts and bolts, and costs related to making mistakes in hiring are many. Check out this great infographic from Fast Company on the non-cash direct and indirect costs related to hiring the wrong employee: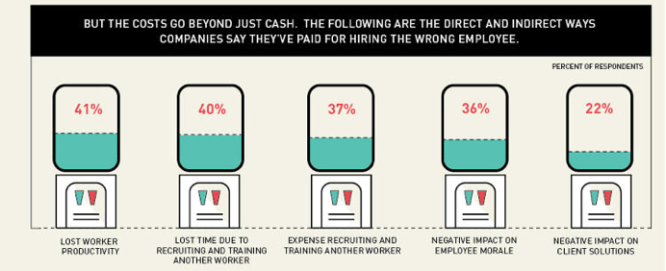 Mistakes made in hiring and managing employees and contractors can lead to business shut down or at minimum, expensive legal fees to defend, win, or mitigate the costs related to a lawsuit.
This for great infographic goes to Henry Kotula.
These costs are primarily due to either mistakes in hiring or managing employees that arise simply because HR responsibilities are being carried out by someone without the appropriate understanding of HR and the related legalese expertise.
For example, did you know that independent contractors in Nevada are supposed to carry their own workers compensation insurance? If you think you are successfully avoiding the costs of having employees by having staff work as independent contractors, but are not requiring them to provide their own workers compensation policies, chances are that if one is injured, you will find yourself facing an expensive unemployment and workers compensation lawsuit. Even if you win, the legal fees will likely cost more than the appropriate insurances and compensation structure would have cost you to set up correctly on the front end.
Want to know if we can improve your recruiting or HR management practices? Contact us for a free initial consultation!